Saturday Sep 25, 2021
Game on Xan! Ep 004: Interview with John Schmidt- Hard Rock Apocalypse TTRPG
In This episode, Xan gets to interview John Schmidt, Creator of the upcoming Tabletop Role Playing Game, Hard Rock Apocalypse.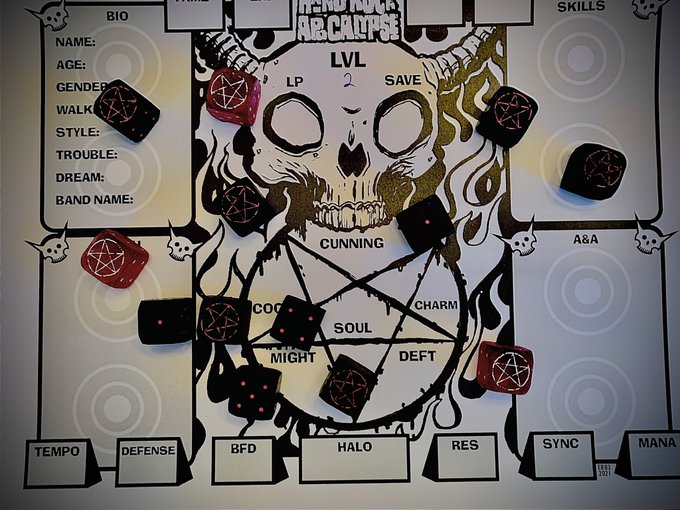 Besides going over the game, Xan & John, discuss the origins of this game( all hail The Six String Samurai), the unique concept that is the Devil's Advocate,  the fact that rules are meant to be broken and the amazing potential games you can make in this metal-tastic game. Note that this was recorded before Gen-Con 2021, we apologize for the lateness in this episode's release to both the creators of HRA and you our fans.
If you would like to know more, follow the Hard Rock Apocalypse Twitter @therocapoc or check out their facebook https://www.facebook.com/groups/492503598448817/ 
Remember to Like, Share and Subscribe. Follow us @spiraken on Twitter and @spiraken on Instagram, subscribe to this podcast and our YouTube channel, Support our Patreon and if you would kindly, please go to www.tinyurl.com/helpxan and give us a great rating on Apple Podcasts. Also join our discord and  Thank you and hope you enjoy this episode.
#spiraken #gamereview #wheelofmanga #tabletoproleplayinggame #hardrockapocalypse #heavymetal  #ttrpg #johnschmidt #roleplayinggame #rpg  #podcasthq #games #spirakenreviewpodcast 
Music Used in This Episode:  Closing Theme-Burst of Light by Abbynoise (Uppbeat)
Music from Uppbeat (free for Creators!):
http://uppbeat.io/t/abbynoise/burst-of-light
License code: HZ86ZYD29BRAOZIZ
WHERE TO FIND US
Our Website https://www.spiraken.com
Our Instagram https://www.instagram.com/spiraken/
Our Email Spiraken@gmail.com
Xan's Email xan@spiraken.com
John's twitter @therocapoc
Hard Rock Apocalypse Facebook https://www.facebook.com/groups/492503598448817/
Our Patron https://www.patreon.podbean.com/spiraken or https://www.patreon.com/spiraken
Our Discord https://tinyurl.com/spiradiscord
Our Twitter https://twitter.com/spiraken
Our Youtube Channel https://www.youtube.com/user/spiraken
Our Twitch https://www.twitch.tv/spiraken 
Our Amazon Store http://www.amazon.com/shops/spiraken
Random Question of the Day: What metal song would you play during game play?